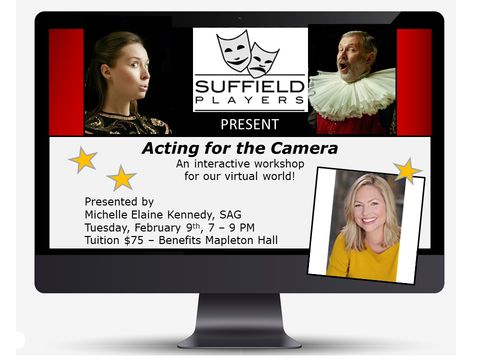 Who:
Our Guest Instructor is Michelle Elaine Kennedy, former on-camera news anchor and current teacher at two California universities on the topic of on-camera excellence. Click here to see her in action and here for her bio.
What:
What's really different about on-camera versus onstage?
How to relate to a virtual audience
Why on-camera feels scarier to stage actors
How to manage what can be managed so you look and sound your very best!
When:
Tuesday, February 9th
For a detailed program outline, click here.
Class held virtually from 7:00 to 9:00 PM via Zoom!
Proceeds will benefit The Suffield Players and our home, historic Mapleton Hall.
Register on or before February 4, 2021.
Tuition: $75
Program limited to 40 participants.
How to register
Enter number of registrations and click green button
Other Theatre links:
In The Spotlight, Inc.
Pillow Talking—"He Said/She Said"
The Connecticut Callboard
Connecticut Gilbert and Sullivan Society



(860) 668-0837
1-800-289-6148

Member, Suffield Chamber of Commerce
Any photos in this site not otherwise credited are © Gniranad Publishing.
© 2017 The Suffield Players, Inc. All Rights Reserved