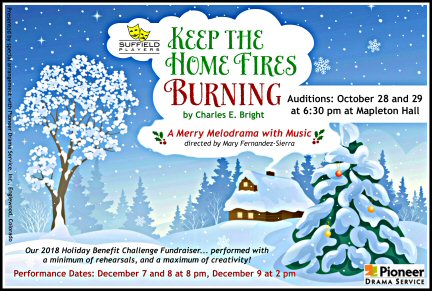 KEEP THE HOME FIRES BURNING by Charles E. Bright, directed by Mary Fernandez-Sierra
October 28 and 29 at 630pm.
• Seeking up to 12 Musical Performers and 10 Actors!
• Auditions will be cold readings of the melodrama script, and a holiday song or two for musical ensemble auditioners (We Wish You a Merry Christmas is a good bet!)
• No memorization necessary
Performance Dates: December 7 and 8 at 8pm, December 9 at 2pm.
Rehearsals will start in November, and be held approximately twice a week up through production, with three tech/dress rehearsals on December 4, 5 and 6. General rehearsal schedule will be created based on participant calendars (with a Thanksgiving break, natch!)
Show Description: A two-act staged melodrama reading, with three public domain Holiday musical numbers performed at the beginning of each act, and a final Holiday sing-along with audience involvement after curtain call. Performances will be appropriate for all ages.
Melodrama Roles:
Mother Kindlady: A dear sweet old lady with a feisty side.
Mary: Wide-eyed innocent daughter of Mother Kindlady.
Will Strongheart: The Handsome Hero, gentlemanly and a bit scatterbrained.
Whipley Skidmore: The Traditional Dastardly Villain (think "Boo, Hiss!") Holder of the mortgage on Mother Kindlady and Mary's humble abode.
Ugly Old Hag: Strange semi-Shakespearean old woman who blunders into the story, part good witch and bad witch.
Santa Claus: Emcee/Master of Ceremonies for the production who saves the day. Full costume and beard, of course!
Carol: Santa's saucy and stunning assistant, Mae West-style vamp.
The Yuletide Yahoo: Contemporary combination of Puck and Harpo Marx, never speaks; communicates through pantomime, rap and charade gestures. Can be male or female.
"Stage Manager": Stalwart and stressed-out soul trying to keep all the production aspects of the melodrama and musical numbers together; in charge of special effects. Can be male or female.
"The Director": Prima-donna with dramatic presence and style. Walk-on role. Can be male or female.
Musical Roles:
Auditioners should be able to:
Carry a tune, and sing in harmony comfortably with support and instruction.
Remember simple movement/actions suggested for musical numbers, and do some very basic staging while singing (No tap or ballet or complex dance moves involved!!)
***We are also looking for a guitarist or keyboard player who has an instrument they can bring to rehearsals/performances.*** Modest musician duty, nothing elaborate called for!
Please don't audition if you have a very busy schedule during the pre-holiday times. We need folks who can commit to roughly two rehearsals a week over a five week period, plus the three required tech/dress rehearsals in December.
Note: this is not a children's production; we suggest a general age requirement of 16 and up for auditioners.
Please contact Mary Fernandez-Sierra, Director, with any questions.