ABOUT NEW FACES
New Faces was created in 2011 to provide opportunity for individuals new to the Suffield stage (or any stage for that matter) to develop their talent. The program has evolved to include every element: actors, directors, writers, designers, and techies. Open to anyone age 16 and up, New Faces is designed to teach, inspire, and develop everyone who signs up, regardless of prior experience. All involved participate in the two performances, which include auditions, rehearsals, tech, and the big show! Space is limited to ensure that each person is able to participate fully and slots are filled on a first-come, first-served basis. Individuals from past New Faces programs or who may have had a minor role in a Suffield show or who may not have performed for several years will be considered. Experienced actors and directors are also sought to work with and assist in the development of all new talent.
Auditions are generally in early July and performances are on a mid-August Saturday (one matinee and one evening show).
Contact Mary to confirm interest in the program or if you have questions.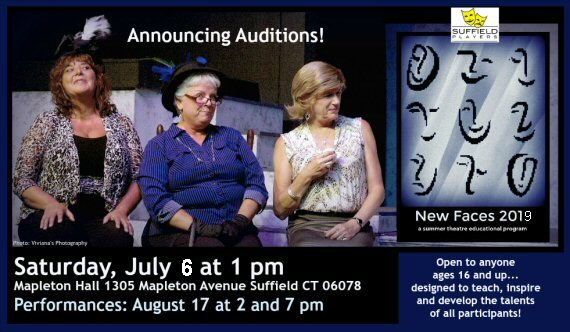 New Faces 2019
"Audition" date is July 6 from 1 - 4 PM
Performance date is Saturday, August 17 at 2PM and 7PM.
Other Theatre links:
In The Spotlight, Inc.
Pillow Talking—"He Said/She Said"
The Connecticut Callboard
Connecticut Gilbert and Sullivan Society




(860) 668-0837
1-800-289-6148

Member, Suffield Chamber of Commerce
Any photos in this site not otherwise credited are © Gniranad Publishing.
© 2017 The Suffield Players, Inc. All Rights Reserved