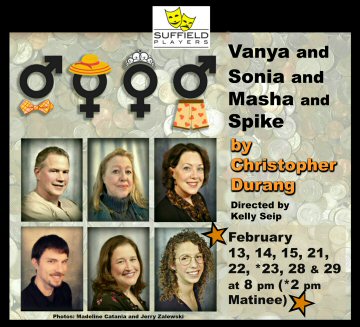 Vanya and Sonia and Masha and Spike   by Christopher Durang
directed by Kelly Seip
Just Completed
Starring Jim Hyland, Mary Fernandez-Sierra, Lisa Parker, Danny Viets, Trisha Urso, and Hope Burnside as: Vanya, Sonia, Masha, Spike, Cassandra, and Nina
Rehearsal shots:
Jim, Mary, Lisa and Trish.
Hope and Danny.
Hope, in costume.     Jim and Mary
Lisa and Mary in their costumes for the party.
Danny with Lisa.
Trish, doing that voodoo that she do so well.
The entire cast.

Madeline Catania photos
Opens Thursday, February 13, at 8pm.
Fridays, February 14, 21, and 28 at 8pm.
Saturdays, February 15, 22, and 29 at 8pm.
Sunday, February 23, at 2pm.
Doors open one half hour before curtain.
Other Theatre links:
In The Spotlight, Inc.
Pillow Talking—"He Said/She Said"
The Connecticut Callboard
Connecticut Gilbert and Sullivan Society



(860) 668-0837
1-800-289-6148

Member, Suffield Chamber of Commerce
Any photos in this site not otherwise credited are © Gniranad Publishing.
© 2017 The Suffield Players, Inc. All Rights Reserved