Much Ado About Nothing
by William Shakespeare
Now concluded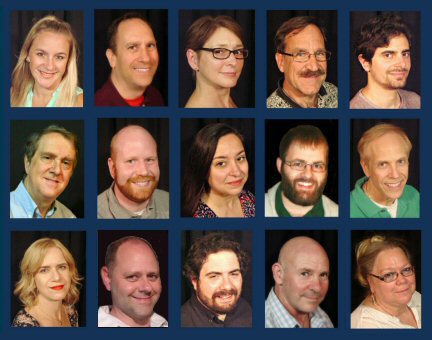 One of The Bard's wittiest comedies. Starring Amanda Marschall, Hal Chernoff, Karen Balaska, Mark Proulx, Tyler Wolfson, Dana T. Ring, Shaun O'Keefe, Becky Shoenfeld, Tom Hebert, Robert Lunde, Nichole Murray, Tim Reilly, Josh Prouser, Paul Tafoya, and Kelly Seip.
Rehearsal shots
L-R: Director Chris Rohmann, Dana as Leonato, Robert as Benedick, Tom as Count Claudio, Tyler as Don Pedro, Amanda as Hero, Karen as Beatrice.
The interrogation scene. L-R: Josh as Otecake, Mark as Verges, Paul as Borachio, Becky as Conrade, Shaun as Dogberry, Hal as the Sexton.
Rob tries out a military jacket.
Eavesdropping on the latest gossip.
Trouble at the wedding.
Villains and fools.