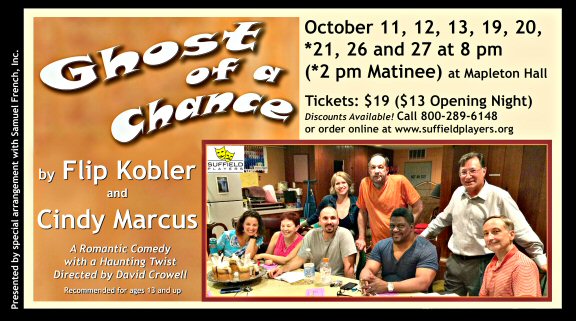 Ghost of a Chance
by Flip Kobler and Cindy Marcus
Now Playing
A Romantic Comedy with a Haunting Twist.
If you enjoy a good ghost story as well as a fine romance, get ready for The Suffield Players Fall production of Ghost of a Chance by Flip Kobler and Cindy Marcus!
The Story: Bethany, her fiancé, and his mother travel to the mountain cabin where Bethany's first husband Chance died in a hunting accident. Chaos and comedy ensue when Chance's ghost appears to Bethany—and to no one else! Chance is determined to rejoin the world of the living and keep Bethany for himself…along with his dark secret!
The Cast: Larry Chiz, Barbara Gallow, Clay Hampton, Nicole Murray, Mark Popovitch, and Tammy Young.
Behind-the-Scenes Talents: Direction and Set Design by David Crowell, Technical Direction and Lighting Design by Jerry Zalewski, Stage Management and Sound Design by Jason Fregeau, and Costume Design by Patricia McMahon.
Rehearsal shots

Barbara Gallow, Larry Chiz, Mark Popovitch, Nicole Murray, Tammy Young, and Clay Hampton work a scene.
Opens Thursday, October 11, at 8pm.
Fridays, October 12, 19, 26, at 8pm.
Saturdays, October 13, 20, 27, at 8pm.
Sunday, October 21, at 2pm.
Doors open one half hour before curtain.