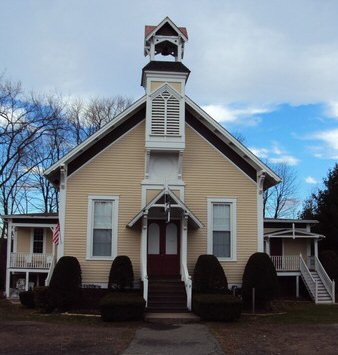 Mapleton Hall, current home of The Suffield Players, was completed in 1883 as a Grange Hall to serve the local community. The Suffield Players became a tenant in 1978, moving from Suffield High School. The Mapleton Hall Association found they no longer needed the facility as a Grange and sold the building and property to The Suffield Players in 1999, knowing the theatre company would take good care of the historic building and maintain its history. Since taking ownership, The Suffield Players have renovated the interior and exterior, with an eye toward maintaining its historic features.
Mapleton Hall (originally named Central Hall) was completed in 1883 as the area's meeting hall for farmers, becoming the Grange Hall in 1885. Located on Crooked Lane, which was later renamed Mapleton Avenue, its importance grew and the North and South Halls had to be added in 1896 . May "Pancake Breakfasts" and evening entertainments drew crowds off the Hartford-Springfield Trolley line. The basement was a full kitchen with brick grills, stoves, white china, and monogrammed silver to host the throngs of guests. The Grange Society continued to thrive until industry began to overtake agriculture in local significance. The Grange Society dwindled in membership, turning over management to the Mapleton Hall Association who rented out the Hall to more groups like the Suffield Players. The Players have been the sole owner ever since, intent on restoring the building while providing arts and cultural activities for a long time to come.
A Timeline of Mapleton Hall
initiated by Lyle Pearsons
1880s
Lyceum and Farmer's meetings are held in the brick schoolhouse located at the foot of the hill on Crooked Lane.
Committee organized to create a larger meeting and gathering place.
Money raised from local community to construct new building in 1882.
Building completed in January 1883 and named Central Hall.
Crooked Lane renamed Mapleton Avenue.
Central Hall renamed Mapleton Hall.
Farmer meetings continue to 1885 when Grange is organized to take their place.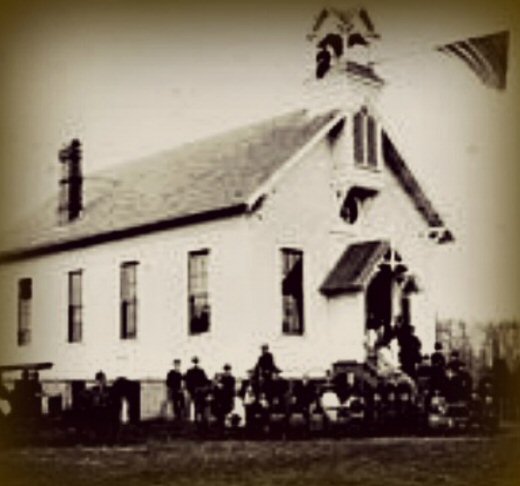 1896
Construction begins to expand Mapleton Hall and additions to North and South halls meet the Hall's needs for increased meetings, card parties and "entertainments."
1897
May Breakfasts begin and become an annual fund-raising affair, which draws hundreds of people who come by trolley from Springfield and Hartford.
1937
Suffield Grange leases the Hall from Northeast Suffield Hall Association and rebuilds the kitchen, installs storm windows and draperies.
1978
Hall falls into disrepair and dwindling Grange membership forces them to turn the building over to the Mapleton Hall Association.
Under President Merwyn Spaulding, the Hall is furbished with floors refinished, plumbing and electrical work completed, interior and exterior repainted.
Annual "Give Your Heart to Mapleton Hall" cocktail parties become one of the elite events for the Who's Who of Suffield.
The Suffield Players move from Suffield High School to Mapleton Hall to become the main renter.
1979
Main floors and walls refinished. New roof installed over wings and rear.
1980s
Players continue to convert the building to be more "theatrically friendly." A new boiler, electrical system with emergency lights, and bathroom facilities are installed. Volunteers added fireproof sheetrock and waterproofing to basement, repaired porches, and painted inside and out.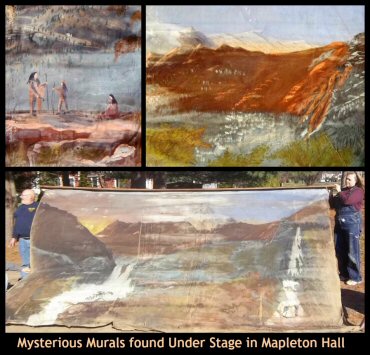 1982
300-pound locomotive bell installed in the bell tower (which can still be rung if you can find someone who knows where the rope is).
40-foot ship's mast added for use as flagpole.
1988
Players lease building from Mapleton Hall Association and take over its operation.
1989
1990s
New furnace and new roof installed.
Flagpole broken [by a storm] and removed.
1999
Mapleton Hall Association transferred ownership of Mapleton Hall to The Suffield Players.
2001
New windows installed throughout the main floor.
2006
New porch stairways and railings installed.
Kitchen remodeled.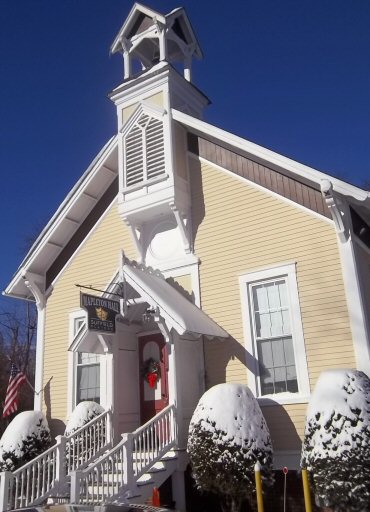 2007
Exterior repaired and painted.
2008
New windows installed on lower floor and the attic.
Main floor tin ceilings refurbished and painted.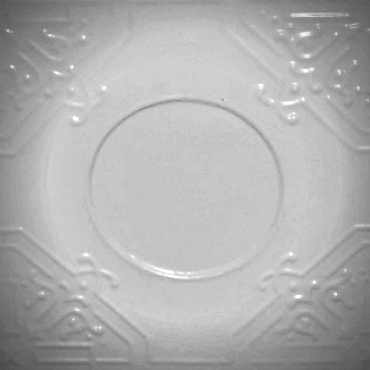 2009
New audience platforms built.
Interior walls restored with period-appropriate paint.
New Mapleton Hall/Suffield Players sign installed over entrance.
2010
Heating converted from oil to natural gas.
2012
Lighting system replaced. Front steps replaced.
2016
Wrap-around roof and gutters replaced.
2017
New North and South Hall porch steps.
2018
Chimney and foundation repair, and water heater replacement.
Other Theatre links:
In The Spotlight, Inc.
Pillow Talking—"He Said/She Said"
The Connecticut Callboard
Connecticut Gilbert and Sullivan Society



(860) 668-0837
1-800-289-6148

Member, Suffield Chamber of Commerce
Any photos in this site not otherwise credited are © Gniranad Publishing.
© 2017 The Suffield Players, Inc. All Rights Reserved