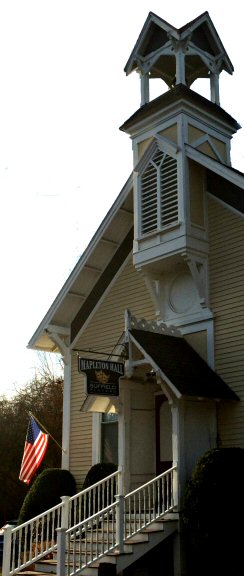 WHO WE ARE
The Suffield Players, Inc. is a 501(c)3 non-profit community theatre company founded in 1952, now housed in historic Mapleton Hall in Suffield, CT. 
OUR MISSION
To craft a high quality theatrical experience for our members, patrons, and the community we serve.
OUR VISION
To create exceptional theater and have a good time doing it, working to professional standards in a distinctive, welcoming, and educational environment.
HALL HISTORY
Mapleton Hall, current home of The Suffield Players, was constructed in 1883 as a Grange Hall to serve the local community.
Other Theatre links:
In The Spotlight, Inc.
Pillow Talking—"He Said/She Said"
The Connecticut Callboard
Connecticut Gilbert and Sullivan Society



(860) 668-0837
1-800-289-6148

Member, Suffield Chamber of Commerce
Any photos in this site not otherwise credited are © Gniranad Publishing.
© 2017 The Suffield Players, Inc. All Rights Reserved