Enchanted April, May 2010, page two
1

In Italy, Lady Caroline (Karen Balaska) is both amused and annoyed by Mrs. Graves (Anna Marie Johansen) demanding to know what kind of milk is being served by Costanza (Karen Sidel).&nbsp Mrs. Graves does not speak Italian, but that doesn't stop her from demanding that everyone accede to her.

1

1

On their first morning in Italy, Lotty (Vanda Doyle) is thrilled to be "in paradise."&nbsp Rose (Amy Rucci) is a little more reserved.&nbsp To Lotty, it doesn't matter that their "companions" took the best rooms for themselves, or that Mrs. Graves barks out orders and disapproves of everything.&nbsp "She just doesn't know she's in paradise yet."
By the next week, Mrs. Graves' disapproval of everything has lessened a little.&nbsp Lotty can even toss back a reprimand at times.

2

1

Rose and Lotty enjoy tea and reflect on their wonderful surroundings.&nbsp Still, they feel there is something missing and admit that they do miss their husbands.&nbsp Lotty suggests they ask them to join them.&nbsp In fact, Lotty already has.&nbsp Rose, however, feels Frederick would not come; she miscarried a few years ago and their relationship hasn't been the same since.
With Lotty and Rose down at the beach, Mrs. Graves and Lady Caroline spend some time together.&nbsp Caroline even admits to losing a husband in the War--a husband no one else knew about.&nbsp She also admits to an affection for a currently-popular writer.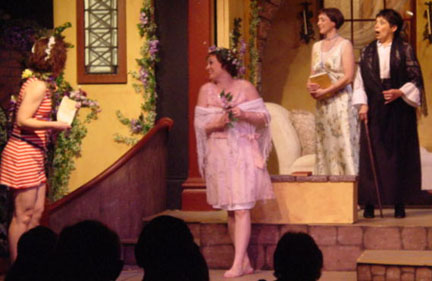 1
Lotty and Rose return with great news: Mellersh has sent a telegram accepting Lotty's invitation.&nbsp He'll arrive tomorrow.&nbsp Mrs. Graves is aghast: they came here to escape men!&nbsp Rose impulsively agrees to telegraph Frederick as well.&nbsp Mrs. Graves declares there will be no men at the castle!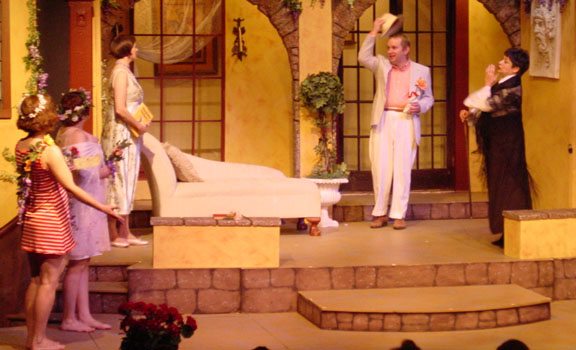 2
So naturally, that's the perfect time for Wilding to show up on his way back from Rome.&nbsp Costanza is especially happy to see him, and he even placates Mrs. Graves with a bag of English walnuts.
3

1

To Caroline's dismay, Wilding is only interested in Rose.&nbsp They take tea the following afternoon after she has been posing for a portrait.&nbsp She has noticed that she resembles another portrait at the castle.&nbsp Wilding admits that was his mother.
The awkward moment is broken by the arrival of Lotty and Mrs. Graves, back from town with provisions for tonight's meal.&nbsp Caroline, still in a bad mood, complains about the less-than-safe condition of the castle's water-heating system.

3

1

Caroline's mood improves dramatically when she gets word that her author friend, whom she knows only by his alias, has arrived at the castle.&nbsp Frederick (Brian Rucci) offers to take Caroline to a jazz club in town, but she says tonight's dinner is a special deal.&nbsp She tells him to stay put while she changes.
However, Rose comes back first and, believing him to have responded to her telegram, is demonstrably delighted to see him.&nbsp Frederick quickly decides to play along.&nbsp Rose introduces Frederick to Wilding, then rushes him off to her room to prepare for dinner.

2

Already strained by finding out Rose isn't a widow after all, Wilding is less than pleased to find out Lotty has a husband as well.&nbsp It takes all his British reserve to be pleasant when Mellersh (Dana T. Ring) arrives.&nbsp Lotty greets Mellersh enthusiastically, which improves his mood as well.&nbsp However, after his trip he needs a hot bath.

2

Of course, the bath explodes.&nbsp A dazed Mellersh staggers in to confront Costanza, only to find all the females in attendence.&nbsp Taking his hat and his remaining dignity, he leaves.&nbsp Afterwhich, Rose introduces Frederick to everyone else, including Lady Caroline.&nbsp Perhaps because she is still amused by the man-in-the-towel, she decides to take it in stride.

1

3

That evening, everyone contemplates the beauty of their environment.&nbsp Frederick and Rose take a walk in the garden by moonlight.&nbsp Mrs. Graves manages to get Wilding to take Lady Caroline out to the acacia tree.&nbsp Lotty and Mellersh see each other in a new light.
And Lotty knows that they will all be back next year, and there will be a new marriage, and a new child, thanks to the enchantment of the castle.
1 &nbsp Jerry Zalewski photo
2 &nbsp Al LaPlant photo
3 &nbsp Bob Williams photo
---
More photos