Pal Joey, April 26, 2006 -- dress rehearsal, page two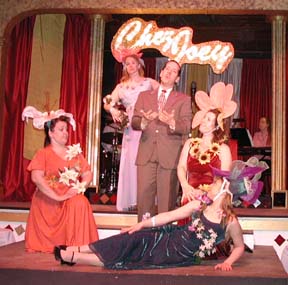 In the final dress rehearsal before the opening of Joey's new nightclub "Chez Joey," Victor (Brian Rucci) sings "The Flower Garden of My Heart," surrounded by Mickie (Meghan Maki), Gladys Bumps (Amy Facey), Adele (Mary Roberge) and Valerie (Rayah Martin).

Joey Evans (Steve Wandzy) is interviewed by Society reporter Melba Snyder (Dorrie Mitchell), who seems amused by Joey's "stories" of his past.&nbsp She's not fazed by anybody since she interviewed Gypsy Rose Lee.&nbsp She illustrates that experience with the show-stopping "Zip!"&nbsp Club manager Mike Spears (Joshua Guenter), holding Melba's recently discarded jacket, fears what is coming (off) next.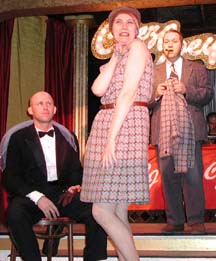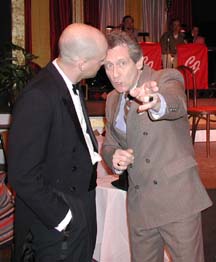 Suddenly, into the nightclub comes extremely shady character Ludlow Lowell (Konrad Rogowski).&nbsp With a little extra coaxing from Gladys, he convinces Joey to sign a contract making Ludlow Joey's "artist's representative."
Having concluded his nefarious business, Ludlow says goodbye.&nbsp Trust that crooked character to turn a simple exit into a production number.&nbsp The cast performs "Plant You Now, Dig You Later."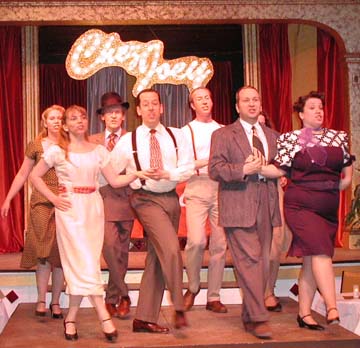 Back at his apartment, Joey and Vera Simpson (Brianna Stronk) carry on their affair.&nbsp They sing "Den of Iniquity."
Ludlow and Gladys plan to blackmail Joey and Vera.&nbsp They try to enlist Linda English (Katrina Burzynski) in the plot, since Joey ditched Linda for Vera.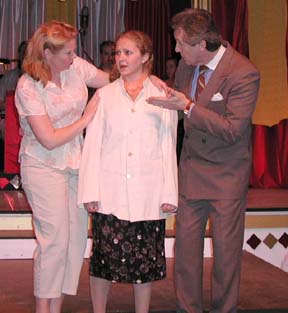 However, the next day...

...Linda declines, and goes to Joey's apartment to warn Vera of the plot against them.&nbsp Vera suspects Linda's motives include more than just concern for her welfare, but Linda denies any desire for Joey.&nbsp They both sing "Take Him."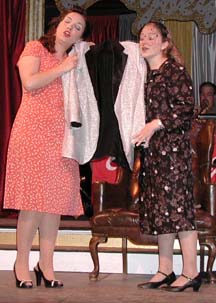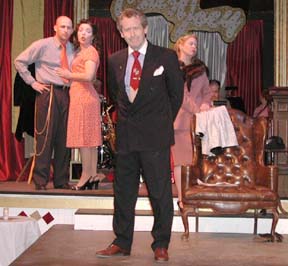 After Linda leaves, a concerned Vera makes a phone call.&nbsp Ludlow and Gladys arrive to extort "20 Gs" from Vera.&nbsp During the argument, Joey tires to punch out Ludlow, but ... well, you know.
Just then the other side of that phone call arrives: Commissioner O'Brien (Dana T. Ring).&nbsp He collects Ludlow and Gladys and sees that they get on a train out of town.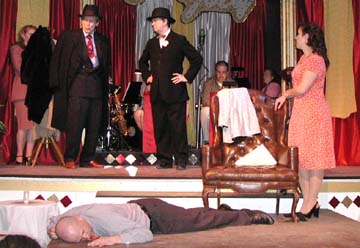 | | |
| --- | --- |
| It gets worse.&nbsp Vera has canceled the "Chez Joey" bank account she was maintaining, and cut off all financial support.&nbsp The apartment manager, Hoople (Chris Daly), tells Joey that he's being kicked out of the building with just the clothes on his back. | |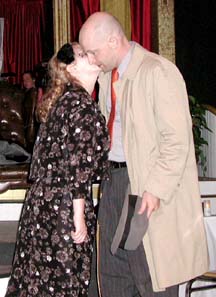 Linda returns and offers to take Joey to her sister's house for dinner before he "leaves for New York."&nbsp After the meal, they walk by the Pet Store and she kisses him goodbye.&nbsp But even though he sings a reprise of "I Could Write a Book," in the end he chases after yet another girl.
---
More photos