Mrs. Bob Cratchit's Wild Christmas Binge, December 3, 2006 -- a staged reading

To benefit the Hall's Restoration Fund, the Players scheduled a staged reading of this Christopher Durang satire.&nbsp With only one week of rehearsal, director Jennifer Ouellette put this hilarious romp together.
| | |
| --- | --- |
| | |
| We are first introduced by The Ghost to Scrooge and Marley as youngsters.&nbsp She also introduces the adult Scrooge to his younger self who want nothing to do with each other.&nbsp The London townsfolk get together to sing (?) "We Love Christmas."&nbsp (All tunes have been changed to protect the innocent.) | Scrooge is assailed by ghosts: Marley and mini-Marley. |
| | |
| --- | --- |
| The Ghost, now the Ghost of Christmas Past, takes Scrooge to the Cratchit's.&nbsp Oops, we're not supposed to be at the Cratchit's yet.&nbsp Scrooge is not that impressed, and Mrs. Cratchit is less than thrilled to be mother to this bunch. | Mrs. Cratchit heads for a pub to drown her sorrows, then herself.&nbsp The Ghost, trying to get Scrooge to the Fezziwig's, ends up at the same bar.&nbsp Finally, the Fezziwigs appear, along with their two "very eligible" daughters. |
| | |
| --- | --- |
| The Ghost attempts to show Scrooge his childhood, but it looks more like Oliver Twist's childhood. | The Ghost changes tack and becomes the Ghost of Christmas Present.&nbsp She show him a Dutch couple exchanging gifts, but with an O. Henry result. |
| | |
| --- | --- |
| Back at the Cratchit's, Mrs. Cratchit is still cranky at having to be mother to Tiny Tim, Little Nell, Child One and Child Two.&nbsp She takes off for the pub again. | She demands a drink and directions to the Thames so she can drown herself.&nbsp Just then, The Ghost (of Christmas Yet-to-come) screws up showing Scrooge his grave. |
| | |
| --- | --- |
| George Bailey rushes in, glad to be alive! | Mrs. Cratchit wishes that she were never born, so Clarence shows her what her family is now like with a happy Mrs. Cratchit.&nbsp Tiny Tim is for some reason now a dog, and Little Nell is a horse.&nbsp Note her Monty Python coconuts. |
| | |
| --- | --- |
| Since life seems to be better, not worse, with the original Mrs. Cratchit never-born, Clarence checks with Tess and Monica.&nbsp It seems this Mrs. Cratchit was created about a century too soon.&nbsp She and Scrooge are transported to 1972 where she insists on being called Leona Helmsley. | Here she can be as mean as she wants, and Scrooge enjoys watching her do it, such as firing the maid for not dusting under the floor. |
The moral of the story escapes The Ghost, since Scrooge didn't learn a lesson, but all ends well and the ensemble wishes everyone a Merry Christmas.&nbsp (All you "PC" types, get lost.)


Back row, left to right: Nancy J. Emonds, Dana T. Ring, Rick Marinara, Kathleen Schwab, Timothy Glynn, Joe Soucy, Tina Kohut, Jim Buffone, Ambre Aldi, Bob White.
Front row, left to right: Jane Maulucci, Ron Blanchette, Jenna Kohut, Christopher Lynch, Meagan Golightly, Brian Rucci, Spencer Pond, Felicina Petito, Linda Grames.
(To start Act Two, The Ghost "took a chance" on this number.&nbsp The chorus is halfway through "The Turn.")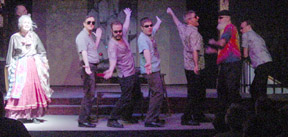 Jerry Zalewski photos
---
More photos