Dearly Departed (I), October 2004
After Bud Turpin dies, the funeral has to be arranged.
| | |
| --- | --- |
| His sister Marguerite (Kelly Seip) insists that her lazy, good-for-nothing... | ...son, Royce (Christopher S. Daly) drive her to her brother's house now. |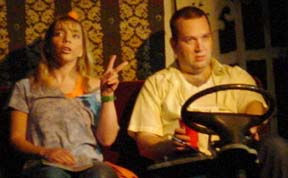 Son Junior (Joshua Guenter) and his wife Suzanne (Rayah Martin) drive to his older brother Ray-Bud's house. On the way, Suzanne discovers evidence of Junior's infidelity.
Royce and Marguerite spend some quality (!) time together after his car runs out of gas.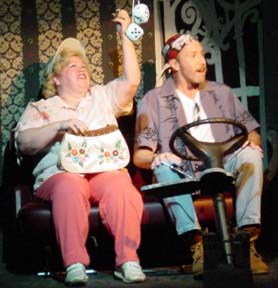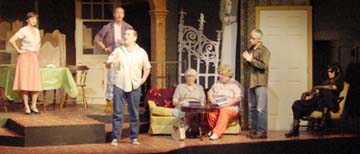 At the home of the elder brother, Ray-Bud's wife Lucille (Karen Balaska) and Royce watch behind Junior as he exclaims that as far as Daddy's funeral is concerned, "money is no object." (Easy for him to say; he has the business sense of a rock.) Bud's widow Raynelle (Denise M. E. Boutin) and Marguerite, on the couch, might agree, but not Ray-Bud (Mark Depathy) who gets in a fight with Junior about it. Delightful (Dorrie Mitchell) views the whole thing with contempt.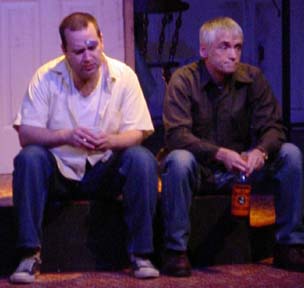 After the fight, Junior explains to Ray-Bud how his business failures left him feeling unwanted, and that led to his affair. The brothers admit a grudging respect for each other.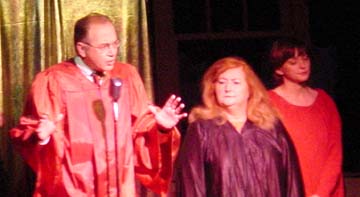 On his midnight radio show, the Reverend B. H. Hooker (Bruce Showalter) chastizes his flock for "just belly-aching again", accompanied by two of the Joy Of Life Singers (Nancy J. Emonds and Karen Balaska).
The next day at the funeral parlor, Raynelle and Lucille try to calm a nervous Ray-Bud, who didn't expect his daddy "to look so damn dead." From behind, Delightful views the whole thing with contempt.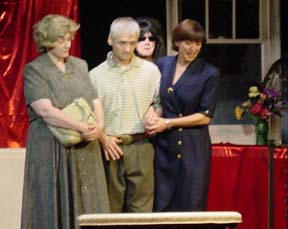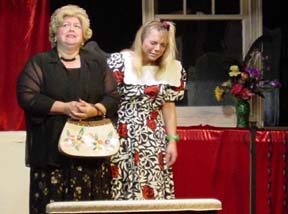 Marguerite laments the loss of her own husband years ago. This causes a weeping fit in Suzanne, who fears that in a sense, she, too, has lost her husband.
Al LaPlant photos
---
More photos