Murder At The Howard Johnson's, February 2007
, page one
Act One — Christmas
Arlene Miller (Anna V. Mazur) and her lover Mitchell Lavell (Edwin R. Lewis, III) have booked a room at the local HoJo's where they plan to murder her husband Paul who she sees as boring.
Paul (Allen Nott) is taken completely by surprise. Didn't he give her everything she wanted? She wanted more than a fifth watch.
Mitchell ties up Paul, who tries to convince Mitchell that he won't go through with this scheme. Mitchell counters that Arlene has outgrown Paul. Paul points out that she could outgrow him, too.
Mitchell and Paul are stunned by Arlene's "hooker outfit" disguise so the murder won't be traced back to them.
With Paul safely gagged, Mitchell prepares to drown him in the bathtub. Arlene and Mitchell then leave.
But Paul was right. Mitchell botched the job.
Act Two — Fourth of July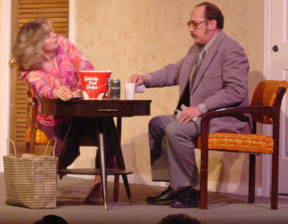 Arlene caught Mitchell with his dental hygienist. She and Paul cook up a scheme to get rid of him.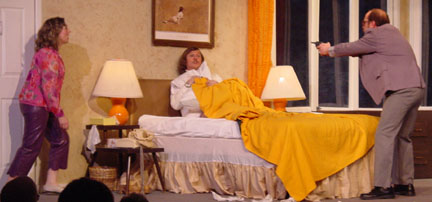 Having lured Mitchell to the room, Arlene has Paul jump out of the closet to play Jealous Husband.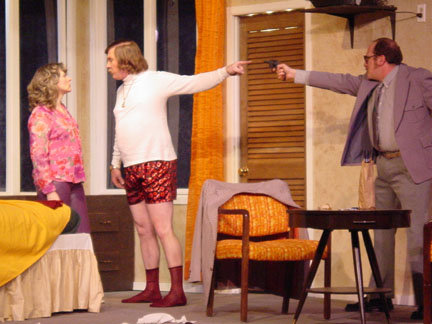 Mitchell cannot believe that Arlene would rather stay with her extremely staid, un-spicy spouse.
Jerry Zalewski photos
---
More photos
   
Other Theatre links:
In The Spotlight, Inc.
Pillow Talking—"He Said/She Said"
The Connecticut Callboard
Connecticut Gilbert and Sullivan Society



(860) 668-0837
1-800-289-6148

Member, Suffield Chamber of Commerce
Any photos in this site not otherwise credited are © Gniranad Publishing.
© 2017 The Suffield Players, Inc. All Rights Reserved