A Tuna Christmas, November-December, 2007
-- a staged reading
Continuing our "tradition" of putting on a Christmas-season staged reading to benefit the Hall's Restoration Fund, the Players presented this Greater Tuna sequel by Jaston Williams, Joe Sears, and Ed Howard, under the direction of Dale T. Facey. The show is normally done with only two actors performing all the roles, but the authors allow other configurations. Thus the 22 characters were divided between the 12-actor troupe.
| | |
| --- | --- |
| | |
| Thurston Wheelis and Arles Struvie give the morning report. | Various townfolk read public service announcements, including Elmer Watkins... |
| | | |
| --- | --- | --- |
| ...Didi Snavely, owner of the local gun and ammo shop... | ...Petey Fisk, speaking for the local hu-mane society... | ...and Leonard Childers, who runs local "QVC" for radio. |
| | |
| --- | --- |
| Listening to the show is the Bumiller family. Young Jody brought home a pregnant cat, much to the consternation of mother Bertha, who blames Petey Fisk. | Daughter Charlene wants nothing to do with decorating their "tree." |
| | |
| --- | --- |
| Son Stanley says getting out of this town would be a great Christmas present. He asks Bertha what she'd like. "Your father home." "...What's your second choice?" | Vera Carp, owner of the grandest house in Tuna and multiple-winner of the Best Christmas Display, calls Bertha to offer advice on how to decorate her tree. |
At Didi Snavely's shop, she has to put up with her idiot UFO-hunting husband R. R. ...
...Sheriff Givens...
...and Ike Thompson, whose last purchase was a quarter's-worth of BB's.
Meanwhile, Dixie Deberry has been called to the yard of Stanley's aunt Pearl Burras. While they use a slingshot on the bluejays, they plot to ruin Vera's yard display.
| | |
| --- | --- |
| Helen Bedd and Inita Goodwin win the Christmas yard display after the mysterious destruction of Vera's display. They dash out to their job at the diner. | Among the many customers are Joe Bob Lipsey, the self-styled artistic genius director of the local play... |
| | | |
| --- | --- | --- |
| ...Inita's boyfriend, Garland Poteet,... | ..."little person" Farley Burkalter... | ...and his wife Phoebe. |
Curtain Call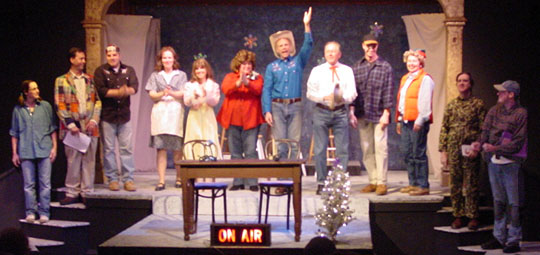 Left to right: Darlene LaPointe, Mark Russell, Jim Buffone, Vanda Doyle, Dianne Rothenberg, Kelly Seip, Robert Lunde, Bruce Showalter, Chris Daly, Jane Maulucci, Dana T. Ring, Timothy Glynn.
Zalewski photos
---
More photos
   
Other Theatre links:
In The Spotlight, Inc.
Pillow Talking—"He Said/She Said"
The Connecticut Callboard
Connecticut Gilbert and Sullivan Society



(860) 668-0837
1-800-289-6148

Member, Suffield Chamber of Commerce
Any photos in this site not otherwise credited are © Gniranad Publishing.
© 2017 The Suffield Players, Inc. All Rights Reserved