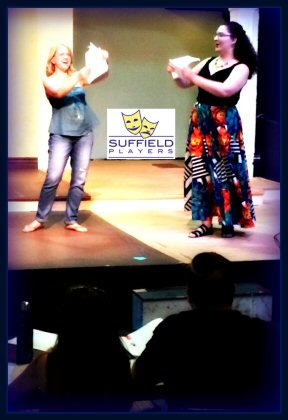 The Suffield Players holds show-specific auditions at our theatre in Mapleton Hall. Our auditions are open to everyone.
Audition information will be published on our website and Facebook pages, and via e-mail to anyone who has signed up to receive our notices. The Suffield Players is an all-volunteer community theatre organization.
Auditions are generally cold readings from the script; musicals will request prepared songs as outlined in the director notes. If a monologue, movement, improv, or other specific elements are to be included in the process, we will provide ample notice.
We do three mainstage shows and one holiday benefit each year plus staged readings and New Faces. Auditions have generally occurred mid-month in August, October, November, and January, but watch here for details. Links to our upcoming season's specific dates are below.
For the Page-to-Stage readings, we maintain a list of people interested in participating—make sure to indicate your interest on any audition form or on our membership interest form. You will automatically be entered and considered by directors as readings are determined.
(While the COVID pandemic continues, we are not holding auditions for any mainstage productions. Use the links below solely for reference purposes for the time being. Thank you.)